History of the Junior Bar and SAYLA
The San Antonio Junior Bar Association began in 1948 as a subsidiary of the "Big Bar," the San Antonio Bar Association, as shown in the historical editions of the Subpoena. In 1952, the "corporate form under which the organizations has operated since 1948 was dissolved and replaced by a constitution and by-laws." Subpoena, June, 1952. In 1974, the organization again made a change to its corporate structure and organized separate from the Big Bar, registering with the State of Texas and the Internal Revenue Service as a non-profit corporation.
As happens over time, much of the history was lost. In fact, for a long time, the following logo was used as the official seal and logo of SAYLA.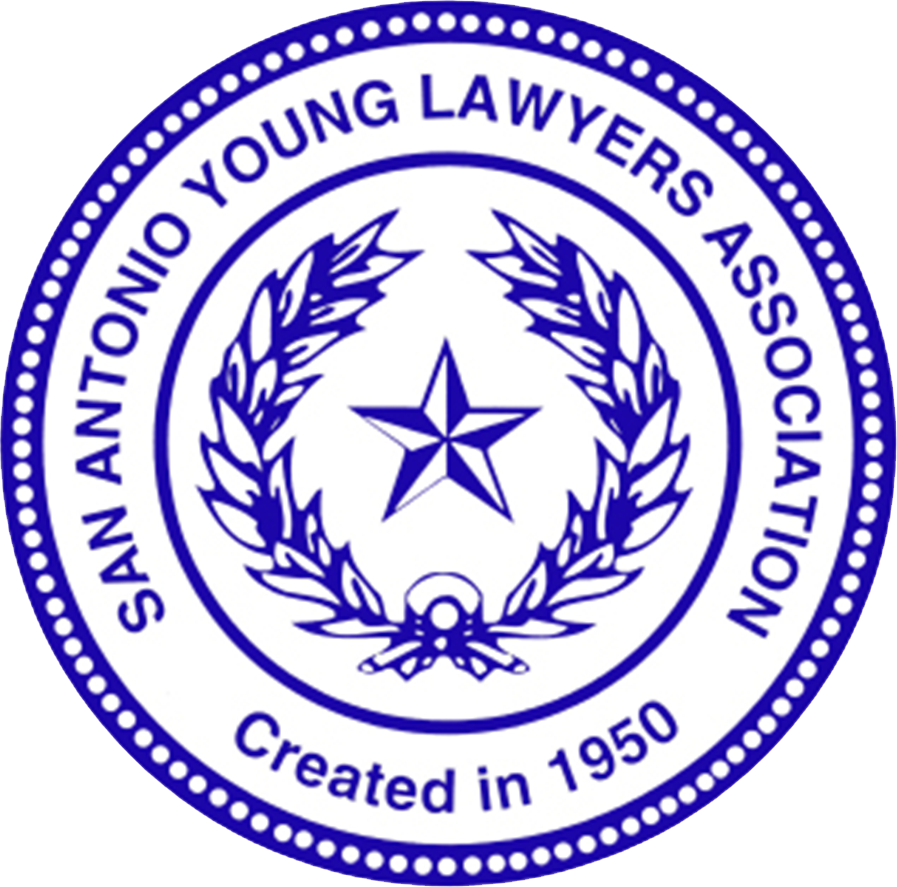 It is unclear the source of "Created in 1950." However, what is known and what is clear is that the Junior Bar and SAYLA have consistent served and represented the young and newly licensed attorneys in the San Antonio area. In 2011, the SAYLA Board of Directors, recognizing that many attorneys who lived and worked in the Greater San Antonio area did not have an association for young lawyers, modified the bylaws to permit attorneys living or working in the counties surrounding Bexar County to become members of SAYLA.
Today, the seal and logo of SAYLA incorporates the acronym by which we are more well known, the famous shape of the Alamo, and our name.
.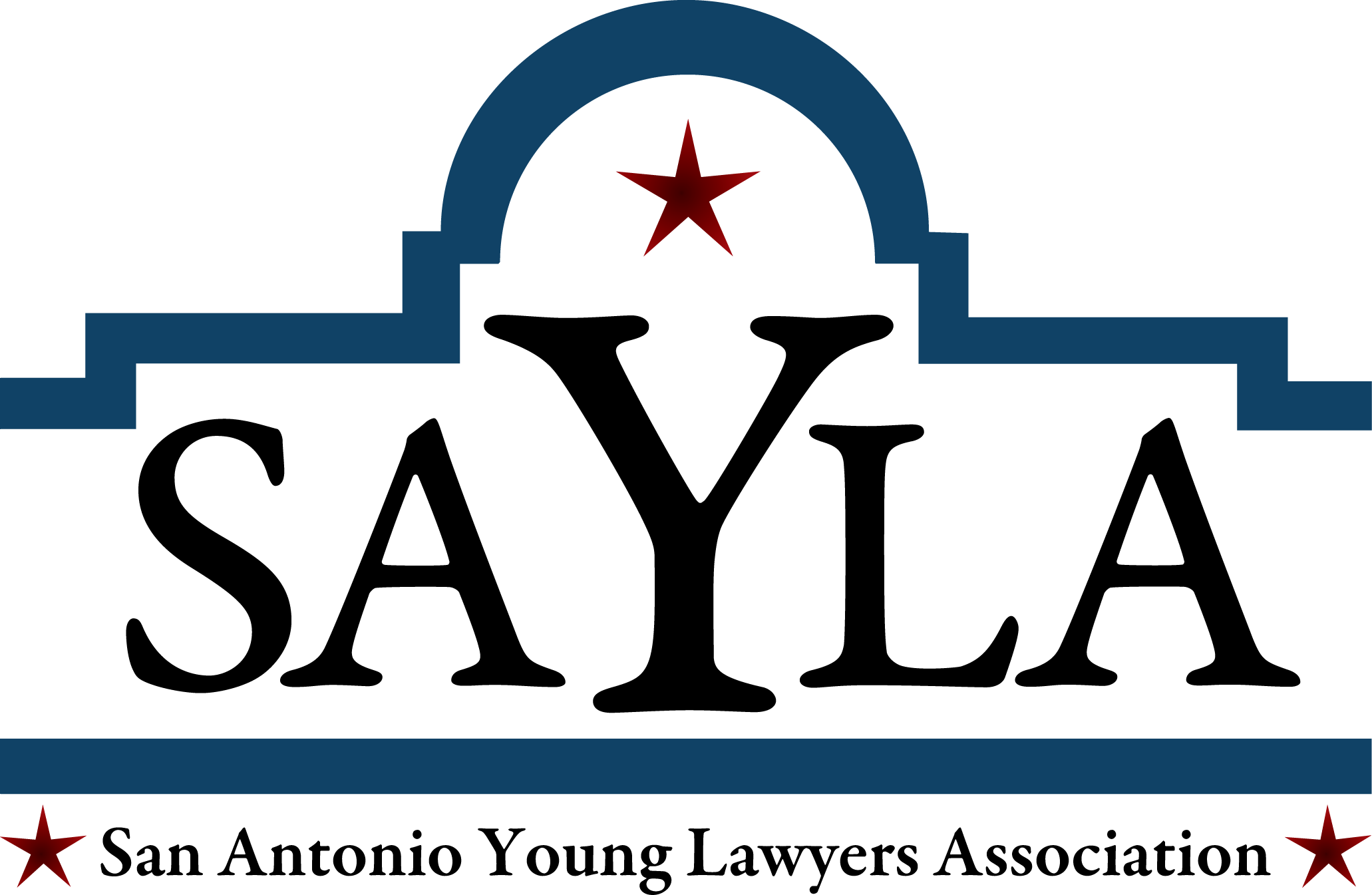 Past Presidents of Junior Bar/SAYLA
1948 - James C. Brady
1949 - unknown
1950 - unknown
1951 - Jim Mondin
1952 - Keith Brown
1953 - Hubert Geen Jr.
1954 - George Spencer
1955 - Pat H. Swearingen Jr.
1956 - unknown
1957 - Nolan Welmaker
1958 - Pat Kennedy
1959 - Edward R. Finck, Jr.
1960 - Patrick H. Gardner
1963 - Thomas H. Sharp, Jr.
1964 - L. Bruce Fryburger
1965 - George A. Olson
1966 - P. Otis Hibler
1967 - George J. Carson
1968 - Dan G. Webster, III
1969-1970 - J. Michael Bell
1970-1971 - Patrick J. Pape
1971-1972 - Richard F. Halter
1972-1973 - James E. Aderhold
1973-1974 - James E. Ingram
1974-1975 - Cecil W. Bain
1975-1976 - John Compere
1976-1977 - E. Jeffrey Wentworth
1977-1978 - Oliver S. Heard, Jr.
1978-1979 - Jane H. Macon
1979-1980 - Evelyn H. Biery
1980-1981 - Richard C. Danysh
1981-1982 - James O. Deegear, III
1982-1983 - William T. Kaufman
1983-1984 - Douglas W. Becker
1984-1985 - David M. Prichard
1985-1986 - Rudy A. Garza
1986-1987 - Frank B. Burney
1987-1988 - Richard A. Sparr, Jr.
1988-1989 - David H. Brock
1989-1990 - Peter M. Koelling
1990-1991 - Les J. Strieber, III
1991-1992 - Robert J. Barrera
1992-1993 - Marlise Aimone Kercheville
1993-1994 - Lowell A. Keig
1994-1995 - Gay Gueringer
1995-1996 - Suzanne Schorlemer Bailey
1996-1997 - Abigail Kampmann
1997-1998 - Mary Belan Doggett
1998-1999 - Abel Martinez
1999-2000 - Craig Christopher
2000-2001 - Zachary B. Aoki
2001-2002 - James Marty Truss
2002-2003 - Reid A. Nelson
2003-2004 - Tara Leigh Adami
2004-2005 - F. Denise Russell
2005-2006 - Kristal M. Thomson
2006-2007 - Bryan A. Lopez
2007-2008 - David M. Evans
2008-2009 - Sam V. Houston
2009-2010 - Murray H. Van Eman
2010-2011 - Priscilla D. Camacho
2011-2012 - Santos Vargas
2012-2013 - Ty Hunter Sheehan
2013-2014 - Michael DeNuccio
2014-2015 - Patricia Rouse Vargas
2015-2016 - J. Barrett Shipp
2016-2017 - Andrew Froelich
2017-2018 - Ryan V. Cox

Authors: Michael DeNuccio, Rene De La O
Sources: Subpoena & Personal Knowledge